Nyloc cable ties
---
Cable tie with increased tensile strength
Nyloc cable ties are made of self-extinguishing polyamide 6.6 (UL94:V2). They consist of a body with an internal rack without rails and a round head with a tightening tooth. Compared to Selfit standard cable ties of the same width, they provide greater tensile strength, greater flexibility and greater resistance to low temperatures. Nyloc manufacturing techniques provide raw material savings of up to 30%.
The product is available with tensile strengths in the range: 90N / 9kg and 540N / 54kg
Nyloc cable ties can be applied by hand or with a cable tie tensioning tool.


Technical specifications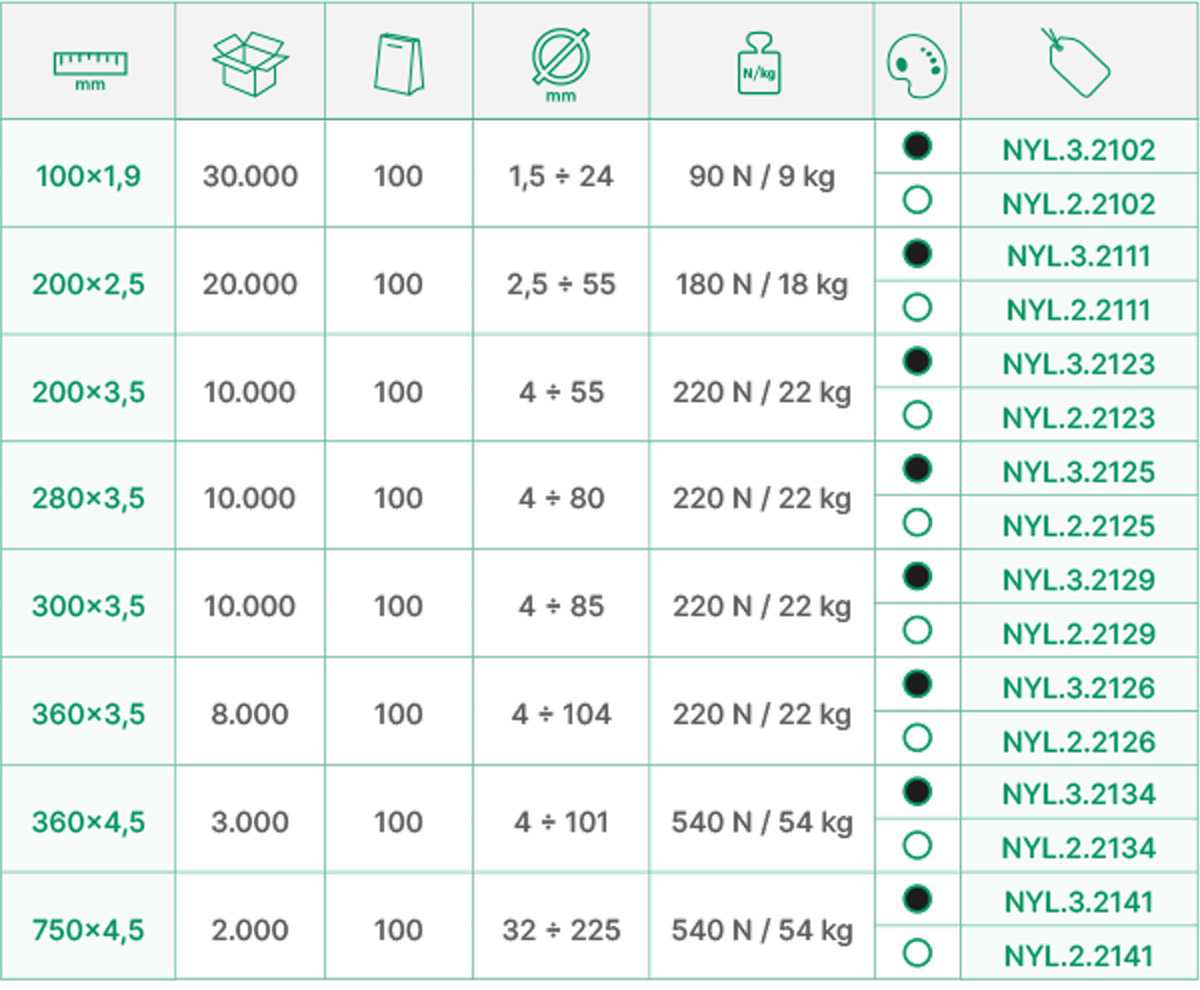 A revolutionary idea to give you even more
The SapiSelco innovative spirit is grounded in passion and a thirst for discovery. This spirit has fuelled tireless research and development, resulting in the creation of Nyloc: an exclusive SapiSelco patent, an evolution of the traditional cable tie concept, an offshoot of the improved performance of the standard Selfit line and a cable tie capable of meeting increasingly varied, complex application requirements.
The evolution of excellence




Higher tensile strength
Nyloc guarantees the same tensile strength as a STANDARD Selfit tie of greater width. Comes in a variety of sizes to meet all needs.
Light and flexible
With its thin, slender design, Nyloc makes for a lighter product and reduces wiring bundle bulk. The absence of raised edges ensures excellent flexibility, making Nyloc an outstanding performer even in cold bending tests.
Environment-focused innovation
Nyloc was developed to provide a high-quality product capable of responding to market requirements and make a tangible commitment to safeguarding the environment. Innovative design maintains the same tensile strength while significantly reducing raw material requirements; this makes for a lighter, more eco-friendly product and lessens the environmental impact of each production cycle.